We offer a variety of events during the two weeks that the festival is open. If we are able to operate as usual we will host the following events along with the festival weekends. 
We have two catered sunset dinners that will fall on Tuesday and Friday. These dinners are catered by a local church group and offer visitors the time to explore the fields with a small group of individuals and see the beauty of the fields at dusk. 
Also during the week we will have a goat yoga night where participants will be able to enjoy a yoga class with a certified instructor along with some goat cuddling and massaging as they walk about your backs. Fun for all!
An addition that was popular last year that will surly be back is a paint night in the sunflowers.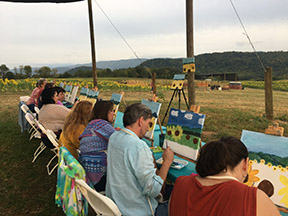 Instructor Candace Monaghan, will lead everyone through a guided painting of the beautiful fields. 
A new addition this year will be a morning yoga class instructed by Roanoke Yoga owner Erica Austin.
In the past, we have provided special field trip days during the week for senior citizens, preschools and special needs kids and adults. As long as all restrictions are lifted we will have these days again this year!